INSTITUTIONS ARE BORN in the minds of men. The closing decades of the 19th century witnessed a deep national ferment all over the country as seen in the events in Bengal, Banaras, Poona and Lahore. In 1888-89, four young men who were at their studies in Madras dreamed of a system of education that would blend ancient cultural values with modern scientific progress. After long discussion among themselves, they approached AMMEMBAL SUBBA RAO PAI, an advocate, who had just migrated to Madras after a brilliant career at the Mangalore Bar.
Subba Rao Pai himself was a dreamer of dreams, but he had his feet firmly on ground. He quietly listened to the earnest words of the young men, probed their minds and discovered the depth of their convictions which happened to tally with his own thoughts on the subject, and promised them his full support. He probably intended to help them financially, but Providence decided otherwise, for, he suffered a severe attack of Gout, and the doctors said that the Madras climate did not suit him. And Subba Rao Pai was back at the Mangalore Bar. His field of work was here.
Early in 1891 the young graduates, namely Bantwal Padmanabha Baliga, Arkula Vasudeva Rao, Bantwal Vaman Baliga and Udyavar Srinivas Rao "with starlight in their eyes," set about to start the school in close consultation with Subba Rao Pai. And first, they sought the blessings of Srimad Varadendra Thirtha Swamiar of Sri Kashi Math Samstha, at his Camp then at Moodabidri. Swamiar conveyed his blessing through a 'RayasPatra'.
The four teachers were joined by a fifth, Adige Padmanabhaiya, who resigned his post as Headmaster of the Mangalore Municipal Middle School.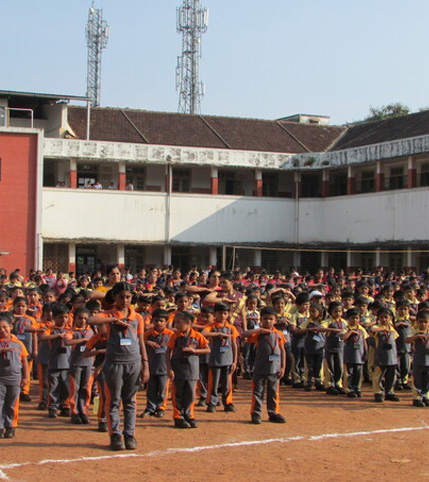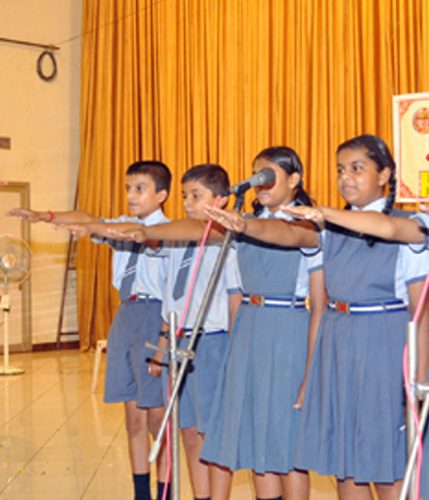 1891-Birth of CHS
The Canara High School came into being on 30th June, 1891, in a rented building facing the Kodialbail Church.
A Vasueva Rao happened to be the only trained graduate among these five pioneers, and he became the first Headmaster.
As befits a sacred venture, the school had an Emblem and a Motto. The emblem was the Kamadhenu in a recumbent posture , with the Vedic Quotation Vidya Kamadugha ( Education fulfils all desires). The Motto chosen was from the Upanishad, satyam vada, Dharmam chara – a mantra that stresses rectitude in life. The Emblem and the Motto have been to us a guiding star which we have been striving to follow.
1894: Girls school opened : On 7.6.1894 was started the Sister Institution, the Canara Girls School. It was first a free school maintained partly by an 'Income Tax' of 2 pies in the rupee collected from council members, other well wishers and the staff of Canara High School. There was also measuring out a day's rice, set apart a fistful for the Canara High School by the ladies of the area. This was called 'Mushti' (Fistful) fund.
1895: Bhuvanedra Hall : This Hall, named after the Guru of Srimad Varadendra Thirtha, was constructed in 1895 with contribution from old students and undr the direct supervision of founder teacher Srinivas Rao. It cost Rs.5850/- with acoustics near perfect, this hall of a thousand memories has been a witness of visits of many National Leaders. Mahatma Gandhi came in October 1927 to unveil the large portrait of Lokamanya Tilak. Rajendra Prasad when he was president of the Indian National Congress was another distinguished visitor.
The 'Proprietor Teachers' worked with idealism, but without any other assets. The expenditure was met by Subba Rao Pai and his friends. Looking back over these 122 years, one is struck by the fact that the Institution was now grown into 15 institutions including an engineering college and Canara Tennis Academy, besides other schools & college with over 10,000 students and over 600 staff. Like a tree that depends on continuous supply of life from the earth, the Institution has been sustained by the Old Students and friends, generation after generation- and, of course, by divine grace.
After initial hurdles the school gets recognition from Director of Education Madras Presidency on Kartheeka Ekadashi day. As per the direction of the Govt.the proprietors transfer the institution to a Managing committee on 13.12.1891. The life and soul was A. Subba Rao Pai. However, he inists that the eldest member of the committee, Sri M.Ramachandraiyya, be chosen as the first President. The other members of the committee were K P Rama Rao, Adiga Srinivasa Rao and M Baba Pai.
1906: Canara Bank: A.Subba Rao Pai ventures into Banking sector. On 1st July 1906 the 'Canara Hindu Permanent Fund Lt, Mangalore was started. In 1910 the name was changed to Canara Bank Ltd.
1922: CHS Association registered on 23.2.1922. CHSA was registered under Societies Registration Act of 1863.
1991-92: Centenary year of C.H.S. The CHS centenary was celebrated on a grand scale. An important event of the function was honouring distinguished alumni and retired teachers. Plans for extension of building of Canara P.U. College, Canara College, C.H.P.S Urva were announced.
Compiled by Kochikar Sudhakara Pai.